Levi Kater Documents Himself in Fuck Yeah Levi Karter
Cockyboys are forever pushing the boundries on gay porn. They are always surprising us with unique ways to present their content, and the new clip Fuck Yeah Levi Karter is no exception. Levi Karter's spent quite a lot of time documenting his life recently, capturing content on his computers, cell phones, and video cameras. Fuck Yeah Levi Karter is an amazing documentation behind the young porn stars life as the camera stays glued to Levi as he struggles with his career choices, his conflicted mother, a jealous boyfriend, and making peace with himself as an adult entertainer.
Levi's always had a real ease in front of the camera and from the first to the last scene, you'll often wonder if he remembers the camera's actually still running. Whether he's making breakfast, showering, hanging out with friends, or jerking off, Levi is exposed to the world in a way no porn star has ever been before on film. And he loves it.
Once you get really into "Fuck Yeah Levi Karter," its hard to stop watching. Its pretty fascinating watching in all and the content includes behind-the-scenes sex sequences with Hayden Lourd and Ricky Roman. The film is co-directed by Levi himself, and artfully uncovers universal truths experienced not just in the porn world, but also in our everyday lives. Kudos to Levi and Cockyboys for such a unique achievement!
Hit up Cockyboys.com for more unique gay porn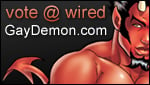 Proudly featured on Male Sharing