Ripped Turkish Oil Wrestling Studs
If you've ever thought of taking a trip to Turkey I highly recommend you schedule it between the end of June and early July. Why you ask? Well just look at the images below for the answer.
In a little town called Edirne, just a couple miles from the Bulgarian border, the sexiest sporting event ever created by man happens every summer. It honestly is one that has to be experienced to be believed. Turkish Oil Wrestling which is traditionally known as Kirkpinar, was practiced in ancient empires of Southeastern Europe, Western Asia and Northern Africa and during the Ottoman Empire it gave soldiers something to do when they weren't at war. Unfortunately, in my opinion, after the 10th century Turkish wrestlers started covering themselves between the navel and the knees according to Islamic law. Before that the wrestling was done in the buff. Imagine that guys!
Several years back I made a pilgrimage to Turkey, and yes I admit it was mainly motivated by a desire to witness the spectacle of thousands of hot studs oiled up and dominating each other in public. The whole experience was very surreal to start with as I was one of only a few white dudes present. Edirne is a very isolated little town and very few foreigners go there. Even though no one spoke English, everyone was pleasantly surprised to see a foreigner and they were amused by my attempts at speaking their language.
Everyone walks from town to the arena and I followed suit from my hotel. The countryside is really spectacular and once you step inside the old arena it really is like stepping back in time. The details in the rules of the Kirkpinar escape me, but it involves getting completely doused in oil then wrestling your partner with the intent of getting your hands down his leather pants trying to join your hands together. Pretty good rules in my book! Trust me though, there is nothing sexual about Turkish Oil Wrestling, and these dudes are confident in their masculinity. However, the scenarios that go through ones mind while watching it all live are entirely more explicit!
Check out hardcore gay erotic wrestling at NakedCombat.com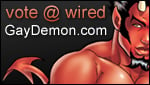 Proudly featured on Male Sharing