Male Nude Photo Paintings by Mark Ashkenazi
I ran across Mark Ashkenazi and his work on a site called Redbubble, which is a great place to view artists and photographers who work with countless styles and subject matters. Mark Ashkenazi and his images really caught my attention this morning, mainly because he's so eclectic in the way he expresses himself. To start with he's got a great eye as a photographer, but also he's got a keen sense as a graphic and fine artist, which comes through on most of his pieces.
There's not a lot of information on him as he doesn't seem to have released an official biography. However, he does say that he's originally from Isreal and now lives in Brooklyn, New York. On most the sites he's featured on Mark Ashkenazi states; "I'm a photographer that focuses on eclectic mediums. Each piece of artwork showcases my feelings and thoughts at the moment". You can definitely see this is true when you spend a good amount of time viewing his entire body of work.
Since I couldn't post everything here from Mark Ashkenazi's work, I chose to showcase images that spoke to me most. From what I can tell, these photographs combine his skills as a painter and an illustrator as well as some post production PhotoShop work. Very beautiful indeed!
Mark Ashkenazi on RedBubble
Mark Ashkenazi on Facebook
Mark Ashkenazi on Fine Art America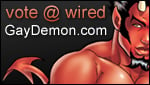 Proudly featured on Male Sharing